Album Art - Fleshslap in Vaporlock by Bomarr

Cover art for new album from Bomarr. Check it out.


American Photography 37

Two images from my series ALT-WEEKLY were chosen as part of the American Photograpy photo annual for the year of our lord, 2020. Fiat Lux.

Alta Magazine | 2020 Photo finalist

Happy to have this photo selected as part of Alta Magazines contest for photos that captured 2020. Photographed in April 2020...


"Telescope at the Griffith Observatory. A confrontation with the new normal, embodied here by an almost alien figure haunting the shuttered California icon. It seems to say: the future cannot be seen."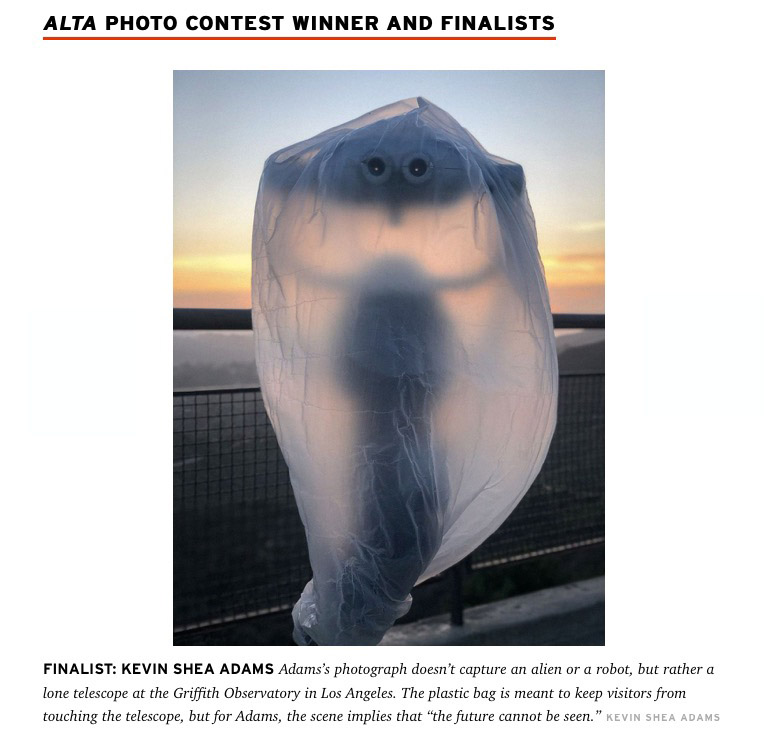 Dylan Lex
Woolsey | Show notes

Kevin Shea Adams
Cornell Winery & Tasting Room

Summer 2019

First Look
Saturday, August 10th
12-7pm

"With today being August 9th, it will have been 10 months since the Woolsey fire swept through the valley where I live and where I created Cornell Winery & Tasting Room. It's hard not to recognize the Borderline shooting the day prior as well. That day will always resonate with me as never have I felt so at risk and connected to a place at the same time. I have been through disasters like the earthquakes that visited my life, I am a native Angeleno, the riots and then the personal tragedies that we all face. Something about being at the epicenter of a much larger tragedy can shake us at our core. My heart goes out to all Angelenos, Californians, Americans, and Humans that suffer from loss each day.

After the fire and realizing that all my friends and family were safe and that personal injury was not an issue, I was left with the many stories told of personal loss and all the treasures that trigger memories of our life's journey. Many deep embraces and tears later, we begin to find a path to rebuilding and, in the process, we are gifted with the confidence and strength that our relationships with our family, neighbors and community are all to eager to lend. We are never alone; we just feel alone until we open our eyes and see the people that are standing by our side.

Just after the fire, the rains came to wash away the ashes and nourish the Earth for its own recovery. Who would have thought that the super bloom that we all got to witness would have such a profound effect on all of us? The entire state seemed to be making a point, all we had to do was witness the magic and beauty that ensued.

Last month I connected with a photographer, Kevin Shea Adams, who wanted to share some photos with me. I was truly amazed at how he captured the essence of this amazing juxtaposition of the disaster that had just taken place and the beauty that was emerging. We discussed a possible display of these pictures and yesterday we finished hanging multiple pieces for all our visitors to see, hanging on the walls of a place that was at the epicenter of this horrible disaster.

The photos are on display now till the end of summer. This Saturday, Kevin Adams will be visiting Cornell from 2pm till closing to discuss his work, one on one, for those interested.

Sincerely,
Tim Skogstrom

BIO:

Kevin Shea Adams is a photographer, director and musician from Marin County. He recently relocated to LA after many years in New York City where he worked as a journalist and photographer. His stories and art work have been featured in The New York Times, VICE, Playboy and beyond.

ABOUT THE WORK:

"In late February of 2019 after a winter of heavy rain, I stumbled upon the unique ecological transition underway around Malibu Creek Canyon. Enchanted with the Santa Monicas and the unusual landscapes resulting from regrowth after the Woolsey fire, I returned with my camera throughout the late winter and spring. Over some time, a project came into focus, to find and frame the surreal compositions hidden in the surroundings; fresh greens against black, chaparral musically dividing beds of purple and mustard, freshly exposed earth pulled from erosion and the encroachment of new life. Much of my work has been informed by urban surroundings and in some sense its decay. This I later realized was related to that story but in reverse, of becoming. Knowing the area was experiencing a very ephemeral and special moment, my goal was to memorialize the beauty of the ecology in a way that was classical in spirit but formally more abstract, like the landscape itself, an interplay of order and noise."

-Kevin Shea Adams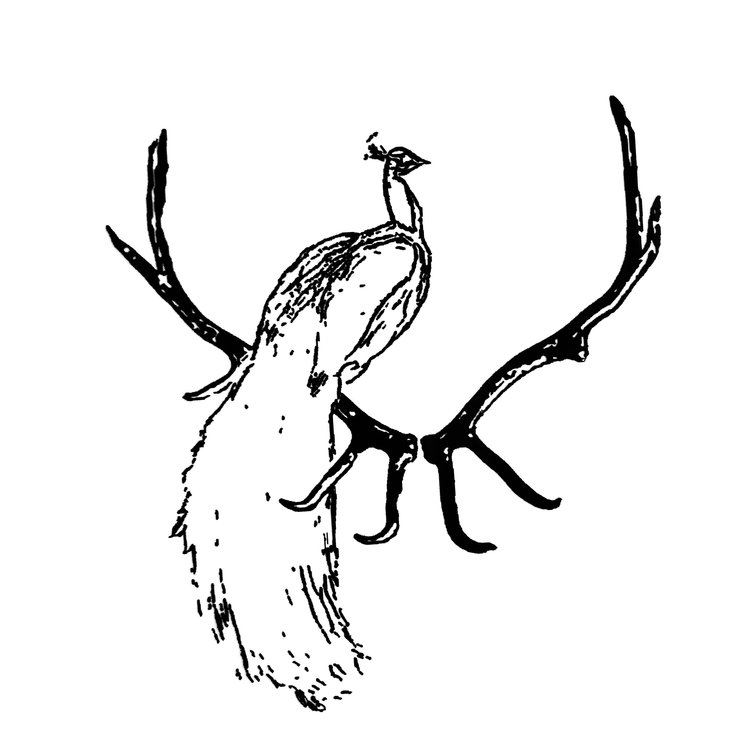 All images copyright 2021. No image may be used or reproduced without express permission from the artist.
Logo illustration by Matt Huynh.