Selling my Spirit Animal
1977 Ford Mustang II

138k original miles, 4 speed manual transmission 3.2L 4 cyclinder, 18/26MPG, clean title, just passed CA smog.

$7,500 obo
If interested contact: kevin.shea.adams@gmail.com




I've been asked a lot about selling this car over the years and I've decided to move on. It's honestly hard for me to part with but after enjoying it for many years I need something bigger for work and camping trips. More details below, if interested contact: info@KevinSheaAdams.com

This has been my daily driver for the last six years. I've put nearly 70k miles on it mostly in the Los Angeles area but with many trips up and down the state, from Norhtern Baja all the way to Mendocino. I originally purchased it near Vallejo in 2017 where it had been sitting in a garage for decades, not much known about the original owner. It's been in California it's whole life so no rust issues and has been extremley reliable with me doing minor and generally cheap repairs along the way. Everything about the car is original save for the vinyl top which I had redone.

If you don't know about this model (as I didn't when I bought it) this is basically a post-oil crisis Mustang. Mustang IIs weren't really collected since they aren't exactly muscle cars like their predecessors from the sixties and early '70s. They were designed to be much more economical and practical and this car's fuel efficiency rivals a lot of new cars on the road today (18MPG city to 26MPG highway). Sadly, Mustang IIs were reviled by tough guys and collectors and the majority of them eventually went to the junkyard. But the dismissal of the Mustang II is exactly what makes them an ultra rare cult classic today—in six years on the road I have never, not even once, seen one in the wild. Everyone at every red light chats me up about how they haven't seen one in ages - to say it's popular is an understatement, this car gets more love on the road than I can even explain. All that said, this is why it's a difficult classic car to value, and to be honest I know what I've got here and am not in a huge rush to sell. But I would love to find someone who would restore it a bit, enjoy it as much as I have and keep the dream alive.


OK here's the details…

~138k original miles.

• Clean body, paint and interior with a handful of fixer uppers.

• 4-on-the-floor manual transmission. 4 cylinder engine. Not exactly fast, but it's a stick so you can punch it and it goes. Does 75mph on the freeway all day long and even will pass at 85mph when you need it to.

• Exceptional gas mileage for it's age: 18-20mpg city and 25-26 highway. Makes you think.


I have fixed lots of little things over the years but
very recently it's gotten:


• Brand new clutch

• Just passed CA smog

• New tires 1 year ago

• New Timing Belt

• Brakes just done.

• 2 yr old Catalytic Converter (though it passed smog fine for 4 years straight!)

• New Radiator

• Transmission rebuilt in 2017.

• I've had the carburetor overhauled and rebuilt a few times over the years and right now it is in a very good place. New EGR valve.

• I've religiously done oil changes at 3k miles and monitored oil levels. 20W50.

• I have receipts for all other work done on vehicle. Most repairs to this car have been between $150-400 and I'm happy to intro you to my mechanic in the bay area. Parts are readily available since it's a Ford and labor is cheap because the machinery is not complex.




What does it need?


Two things: the univeral joints around the driveshaft are knocking a bit and I would replace the fan belts. I was quoted about $600 for this work but it is quite easy to do yourself if you're handy, or if interested I can have this work done for you by my mechanic in Marin County.

The interior is in good shape and would spring to life if you detailed it. The vinyl on the roof is drooping a bit and needs to be re-adhered to the roof and the drivers seat is a bit chewed up (I have a seat cover over it). Steering wheel cover is funky and some cracks on dash. Rest of shag orange interior is quite good. You could easily doll it up if you're savvy with upholstery or have it professionally detailed it and by salvaging little parts online (I can refer you to some facebook groups to buy parts for cheap).

No heat or AC. I had been fine with this here in SoCal but up to you to fix. Radiator is new as mentioned but previous owner had bypassed heat channels into the cabin likely because there is a leak there, a pretty common practice. It has an AC on the dash but I've never looked into it getting it working, blows air though.

Horn doesn't work :)

You could probably pop the dents out with a toilet plunger and touch up the body with a small can of original paint from Ford inside an afternoon. I have been lazy about the small cosmetic things but they are easily fixed. A couple years ago I did a full treatment on the paint (compound, wax) and it really gleamed.

Text or email Kevin here:

415-497-2752
info@KevinSheaAdams.com


Bambi Life image gallery: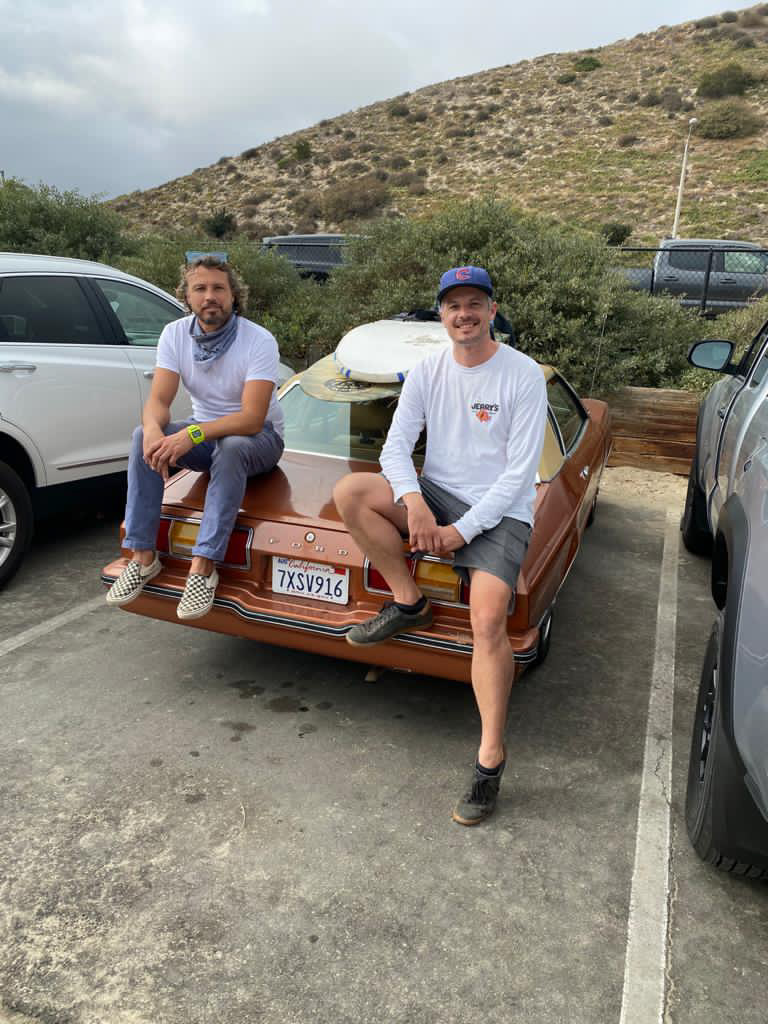 All images copyright 2021. No image may be used or reproduced without express permission from the artist.
Logo illustration by Matt Huynh.